About Us
At first glance, Redwood is a company that builds and manages single-story apartment homes. But when you look closer, we are so much more. We are builders, we are innovators, we are people who go the extra mile. And most importantly, we are committed to one overarching goal—enriching the lives of those who choose to rent throughout suburban America.
This commitment is what drives our every move. The locations we choose, the features we include, the people we hire, it's all for our residents. Because when you rent at Redwood, you get more than just an apartment. You get a home where you can live comfortably, where your pets are welcome and where you can be confident your unique needs are top of mind.
At Redwood, you can finally have the place you deserve. Welcome home.
It all started with a dream:
To reinvent the traditional rental apartment home.
We envisioned apartments where residents could experience all the comforts of their own home without the stresses of home ownership. Instead of focusing on squeezing as many units as possible into the available space, we wanted to produce high-quality, remarkable, single-story apartment homes, with attached garages and more square feet per unit. So that's exactly what we did.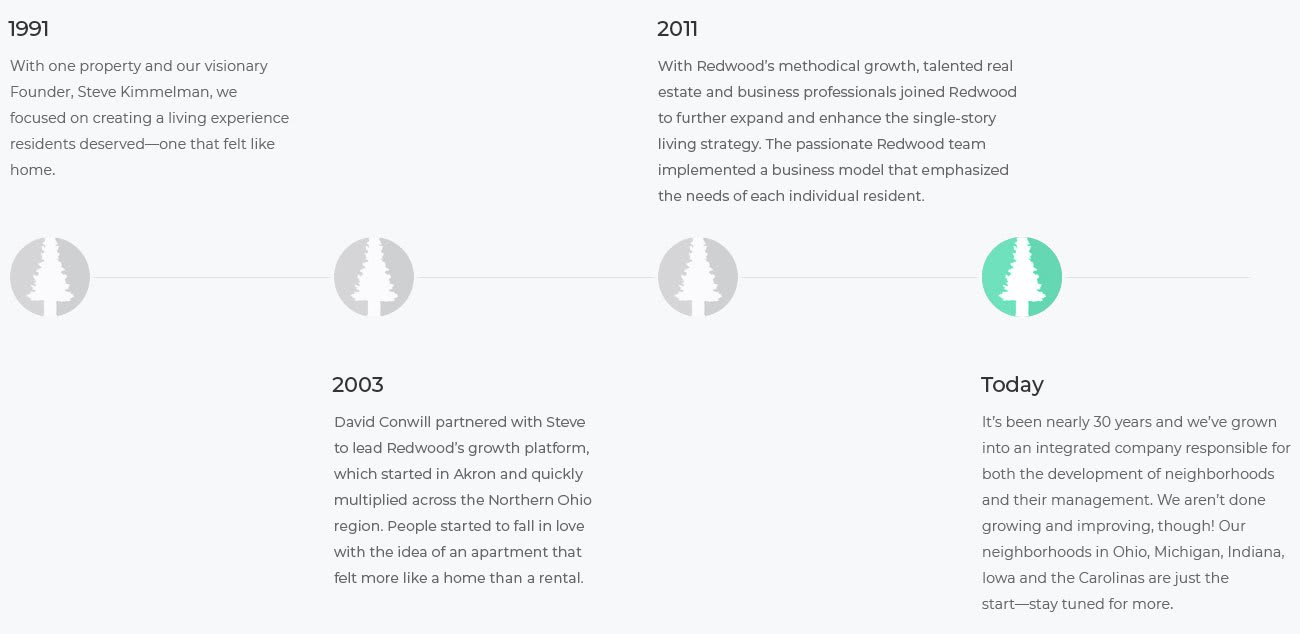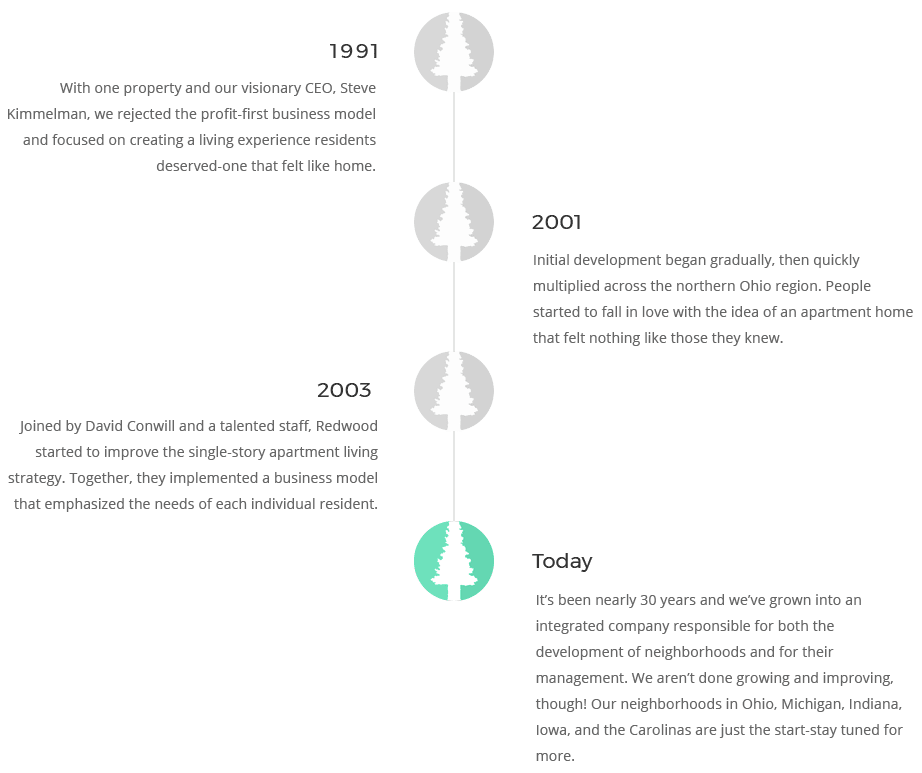 Culture. Core. Commitment
At Redwood, we are driven by our mission, our vision, and our core values. Every day, we work to achieve them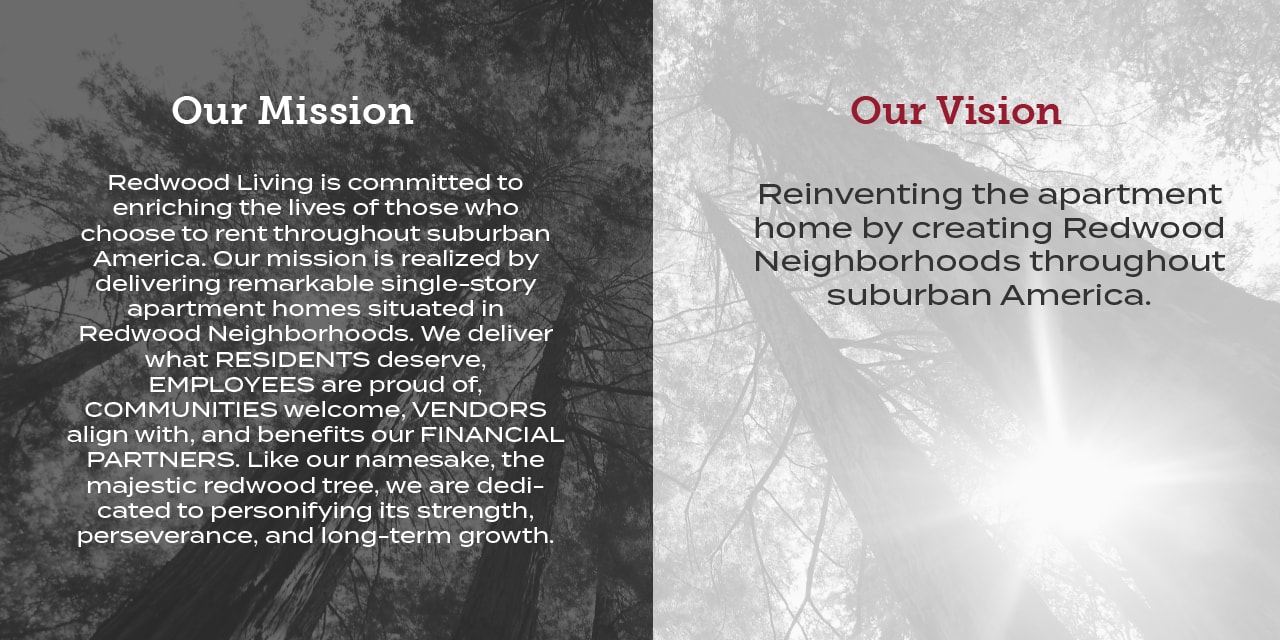 Our Core Values
We are united by our core values — they provide the foundation for all we do as a company.
Do one thing really well
Be entrepreneurial
Serve those you lead
Deliver more than expected
Communicate openly & honestly
Instill family & team spirit
Demonstrate integrity & authenticity
Be nice & have fun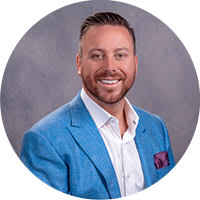 Our goal at Redwood is to make people's lives better by providing them with a remarkable place to live in a neighborhood setting. And every person here at Redwood is committed to that goal.
David Conwill
Executive Vice Chairman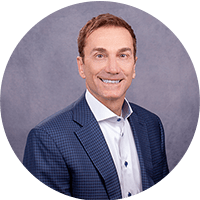 Redwood is reinventing the apartment home and committed to enriching the lives of those who choose to rent throughout suburban America.
Steve Kimmelman
Chief Executive Officer & Executive Chairman
Leading the Way
At Redwood
we know we are only as successful as the people who power us. We are passionate, we are talented, we are empowered to make decisions that positively affect the lives of our residents. We are committed to our people, our economics, our environment and our business strategy. And we know that only together can we succeed. Together, we are Redwood.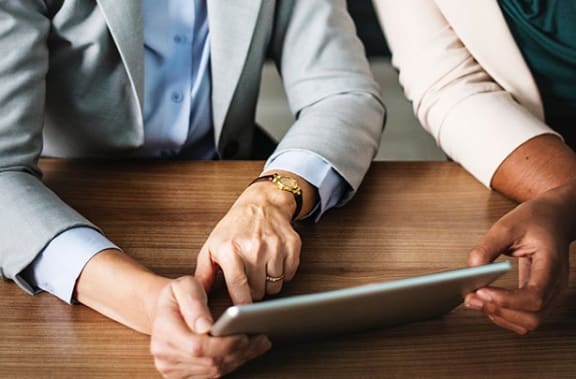 We Love
Our Employees
We believe we have the best employees in the world, and because of that, we want to make sure they have the best work life, and work-life balance, we can provide. The Redwood Advantage is about more than building apartment homes, it's about taking care of our people — resident, employee, or somewhere in-between.
We truly value our employees, and that's why we do our best to offer not only competitive pay and benefits, but also a few extra perks to show how much we appreciate hard work.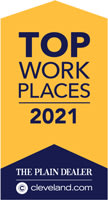 Want to know more?
Meet our team or join us, today!
A Community that Cares
At Redwood, we're committed to being a responsible member of society and taking care of those who help make our ongoing success possible. We believe that as an organization, it's our duty to give back to worthy causes serving the communities we are part of. Whether it's with our time, talent or donations, Redwood is committed to working with worthy organizations in our regions.
And we have fun doing it!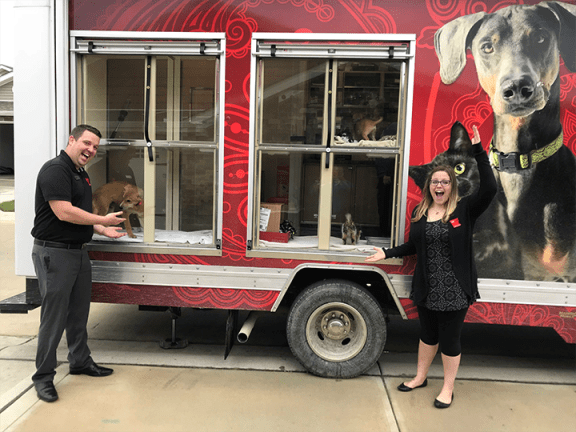 Hosting a Mobile Pet Adoption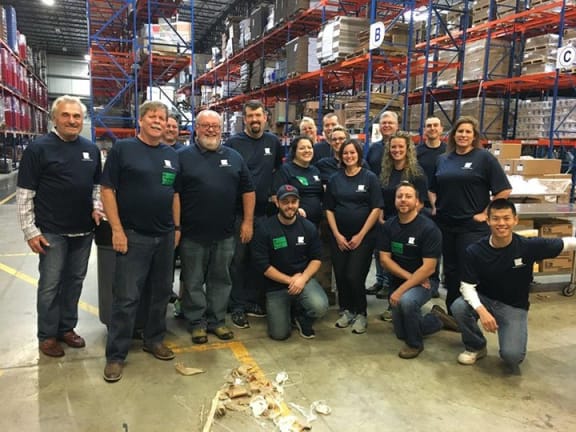 Volunteering Together
Giving Back to Our Troops
Planting Roots: Redwood's Philanthropic Focus
In 2018, Redwood partnered with the Arbor Day Foundation to support the planting of 10,000 trees on our behalf. Each year, we will donate to support this mission. The Arbor Day Foundation is the largest nonprofit membership organization dedicated to planting trees, with more than 1 million members, supporters, and valued partners. Their mission is to inspire people to plant, nurture, and celebrate trees.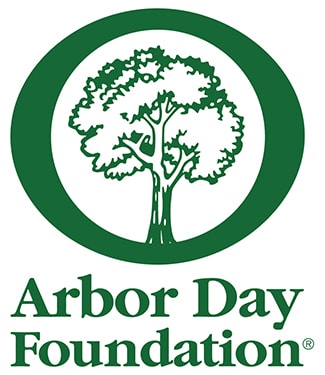 Home selected. Home grown. Home harvested.
At Redwood, we are proud of every neighborhood we develop, build and manage. From start to finish, we serve as a full-service developer, using the skills of our capable, professional in-house staff to drive projects to close thoroughly and efficiently. And when we're done with the development stage? We don't go anywhere. Redwood's commitment to excellence includes the way we maintain and manage our neighborhoods. We assure our Redwood neighbors can enjoy the advantages of living in a high-quality home for as long as they'd like.
Seeds for the Future
Investing with Redwood
Redwood offers the unique opportunity for qualified investors to invest in our properties. Interested in finding out more?
Partnered with the Best, to Provide the Best
Resident Experiences